The SpotLink® Team
---
Known for offering the best customer service in the business, our staff of experienced, highly skilled experts, know what works and what doesn't work. We will help you create a special blend of hardware, software and network infrastructure tailored to your exact business needs!
Schedule 30 minutes with a SpotLink Expert
CEO
Robert Hood
Certifications:


MCP, MCTS, MCITP, MCSA, MCSE, CCNA

Robert Hood is the CEO & Founder of SpotLink and has over 35-years of high technology engineering and management experience. His passion is providing business enhancing technology solutions to clients, with impeccable customer services, support, and integrity, and ensuring SpotLink delivers on that every time. After spending several formative years with an award-winning customer service organization, he went on to work in software engineering and software product management, then extended that to also include delivering highly effective IT services to SMB clients.

His software and IT experience covers Windows, Unix/Linux, and Macintosh, delivering customized as well as productized software, and designing multi-site and high-availability business systems. His specialty is in understanding the business needs of the clients, then designing systems that increases the profitability of the business by improving productivity, reliability and security, while at the same time minimizing the total-cost-of-ownership. Robert has a BS in Physics with a Minor in Economics from Harvey Mudd College, and an MBA in Management from San Diego State University where his Master's Thesis was on an innovative management approach [click to view].
Senior Systems Administrator
David Wing
Certifications:


MCP, CCNA, VCA-DCV

David Wing is a Senior Systems Administrator for SpotLink. He specializes in Server Operating Systems, VMWare Virtualization, and Network Administration. Over the last 10 years, David has worked for large organizations as a Systems Administrator in the retail and healthcare industries, as well as government sectors. David studied Network Security at University of Advancing Technology.
Systems Administrator I
Roy Ibarra
Certifications:


MCPS, MCTS, MCSA, MS

Roy Ibarra is a Junior Systems Administrator. He is efficient in troubleshooting hardware, software, and is also our first level of support for Linux. He has handled many mail migrations to the cloud, extensive experience with ESXi, supports clients with Shoretel Systems. He studied networking at Coleman College and on his free time likes to learn about new technologies and test them at home. Roy is currently studying for his MCSE.
Sr. Accountant
Katie Scannell
Katie Scannell is the Sr. Accountant for SpotLink. She joined the team in 2017. She has experience in accounting and operations for small to mid-size organizations. Prior to joining Spotlink, she consulted with non-profit organizations to improve their accounting and back-office efficiency so they could better focus on their mission. Katie holds a B.A in Economics from Boston University.
Senior Systems Specialist
Patrick Gispert
Certifications:


MCP, MCDST, MCTS, MCITP

Patrick Gispert is a Senior Systems Specialist for SpotLink, assisting in day to day network administration and providing end user desktop support. Prior to SpotLink, Patrick worked as an IT Technician for Moonstone Hotel Properties on the California Central Coast. He started his IT career during college working as a computer Lab Monitor and then began freelancing, providing web design and desktop support. Patrick graduated from CalPoly San Luis Obispo with an undergraduate degree in Business Administration.
Senior Systems Specialist
Jared Goldstein
Jared Goldstein is a Senior System Specialist for Spotlink, specializing in end-user-support. He has over 10 years of experience supporting a variety of small and medium business in the San Diego area. Jared completed courses in Computer Networking at MiraCosta College from 2007-2009.
Systems Administrator II
Darren Francisco
Certifications:


MCP, MCSA

Darren Francisco is a Senior Systems Specialist for SpotLink. He specializes in providing desktop & server support, as well as network administration. Before his time at SpotLink, he gained his experience by providing IT support to numerous users both on-site & remotely to a city government office, a property management company, and a telecommunications technology company. He graduated from San Diego State University and earned his B.S. in Information Systems.
Software Engineer II
Vince Castellano
Certifications:


MCP, MCSD

Vince Castellano is SpotLink's Software Engineer I. He has been in the IT industry for over 13 years, and software development for over 10 years. He is proficient in Python, C#, and C++ programming languages. He also has experience with Java, Ruby, and Visual Basic. He graduated from National University and earned his B.S. in Computer Science.
Senior Systems Specialist
David Brindley
Certifications:


MCSA, MCP, FOA

David Brindley is a Senior Help Desk Technician for SpotLink. Before joining the team, David was working as a desktop support technician for the U.S. Army. There he provided technical support for several hundred users. He is currently studying Psychology and Computer Science at Grossmont-Cuyamaca College.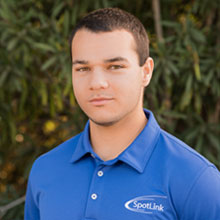 IT Intern III
Kyle Holman